Ruby & Cedar
By Alison Dunne
Love & grief & space. A new play with its head among the stars.
Sisterhood is eclipsed by sibling rivalry. Sinister, funny & for anyone who's loved, hated or lost someone.
Ruby & Cedar was developed with Arts Council Funding in collaboration with Arena Theatre, Wolverhampton, Attenborough Arts Centre, Leicester and Haymarket Theatre, Leicester. It premiered at Arena Theatre in June 2019.
A run at Buxton Fringe in July 2019 garnered this five star review from FringeGuru as well as nominations in Best New Writing and Best Production categories of the Fringe Awards.
Ruby & Cedar was selected for Amplify Festival at Nottingham Playhouse in October 2019 and was shortlisted for the Pleasance National Partnership with Curve Theatre which offers the opportunity for regional theatremakers to go to Edinburgh Fringe.
Ruby & Cedar is touring with Live & Local in 2020 and 2021.
Where To See Ruby & Cedar
The Civic Stourport (Worcestershire) 23rd April 2020
Spital Arts (Derbyshire) 24th April 2020
Allington Village Hall (Lincolnshire) 25th April 2020
Creative Team: Alison Dunne (writer) Jennifer Rigby (director) Blue Merrick & Therese Collins (actors) Lydia Denno (designer) Kit Fordham (stage manager) Pamela Raith (photography) Jane Hearst (videography) Steve Escott (lighting/sound)
Powered by Fairydust
by Alison Dunne & Lesley Emery
A new comedy with a heart of gold.
Developed in association with Live & Local specifically for rural touring.
Janis Barlow is the book volunteer for the local community library – since the cuts, since she was 'retired' from the hair salon.
She's got to keep herself busy.
Janis pops round the county in her Smart car with her basket of books delivering to people who can't get out to the library. She's got a secret agenda though … personal development!
She also starts to realise that underneath, it's her who is lonely and that doing good does you good too.
A feel good play looking rural isolation right in the eye that will make you laugh and maybe shed a little tear.
Arts Council funding means we are able to offer the show with additional community activity – book swaps/chatty cafes.
Tour Dates:
13th March 2020 7:30 pm Billinghay Community Rooms, Lincolnshire
14th March 2020 7:30 pm Enderby Civic Centre, Leicestershire
Creative Team: Alison Dunne (writer) Lesley Emery (writer/actor/deviser) Jake Leonard (director) Chandni Mistry (actor/deviser) Stuart Reid (actor/deviser) Lydia Denno (designer) Kit Fordham (stage manager) Steve Escott (lighting/sound)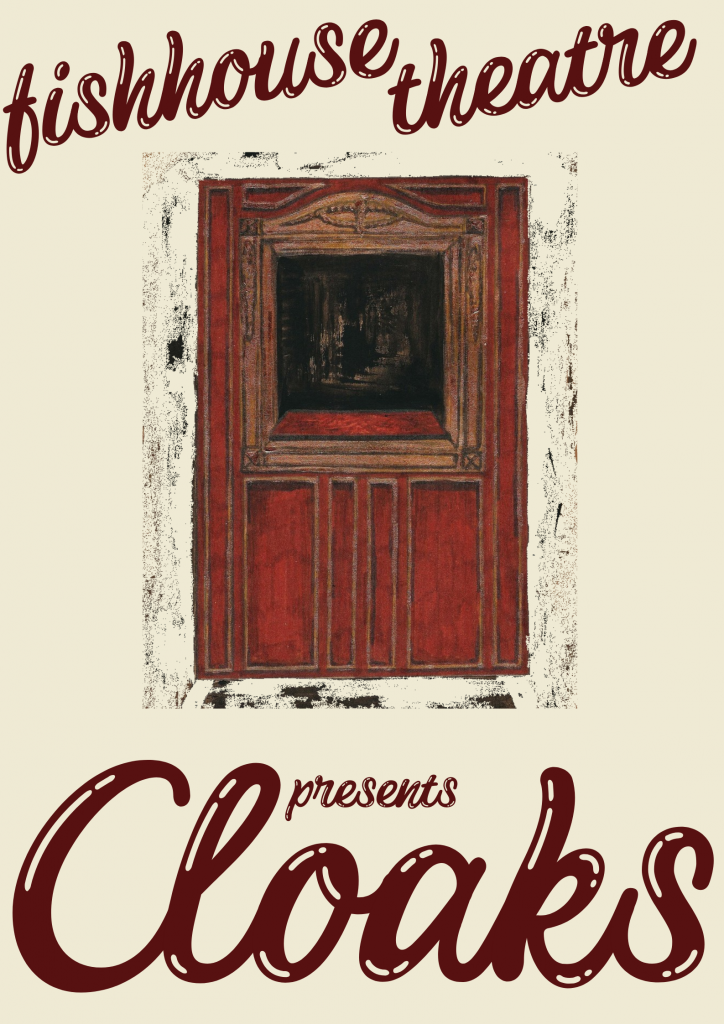 Cloaks
by Alison Dunne
'heartwarming, hilarious theatre'
In a theatre cloakroom, the coats come to life & tell Kath's life story…
Cloaks – this one act play started life at Buxton Fringe Festival in 2016 where is was a 'word of mouth hit' and gathered great audiences and reviews, including this 4* review from Fringe Guru.
Since then Cloaks has toured rural venues & been to Arena Theatre, Wolverhampton & The Y Theatre, Leicester and will be touring rurally in 2020/21
The character of Sam – who multiroles 12 other characters too – is written as a non gendered character.