An occasional blog about the process of using Arts Council funding to develop a show:
Some of the Interesting Challenges of Making Work for Non Traditional Spaces from Alison Dunne in Her Producer's Hat
At Fishhouse Theatre we are lucky enough to be resident in Leicester's only pub theatre Upstairs at the Western above The Western pub in Leicester's West End which gives us a home, a place to rehearse and somewhere to try out our shows.
If you've never been, Upstairs is a lovely, intimate space It has 42 raked seats and a black box stage. We love it. But it isn't quite right for trying out our new ideas for the show.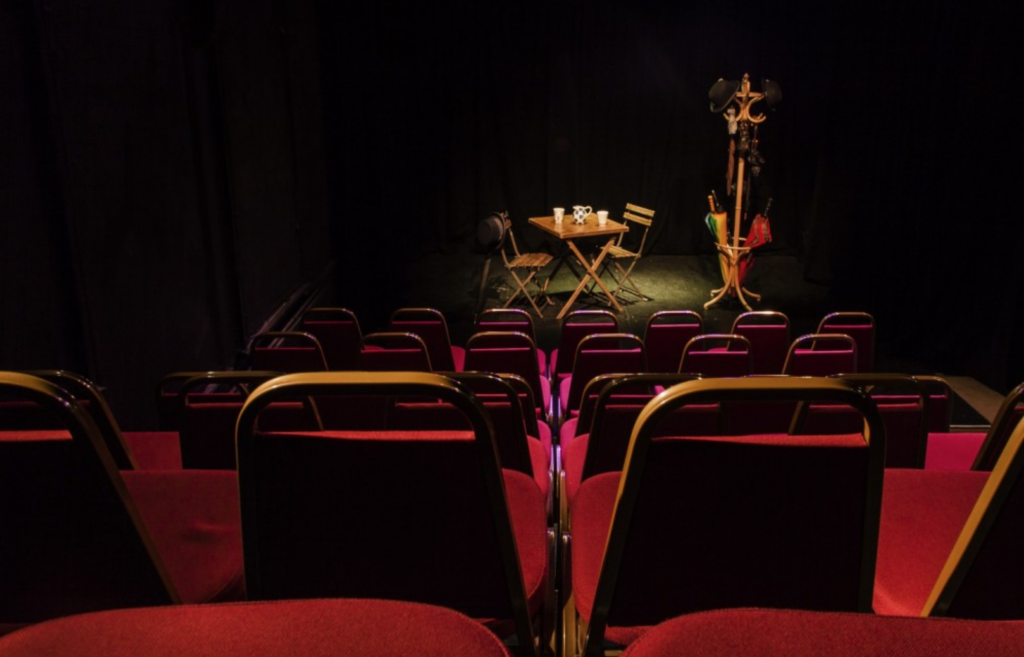 Powered by Fairydust is made especially for rural touring audiences, meaning we will drop it down into communities. What became clear when talking this through with the designer was the desire to not try to bring in actual traditional theatre, with black drapes and an audience all facing the stage and change the spaces. We realised it could work really well to have the flexibility to try having audience both sides of the stage so they'd be actually looking across the action at the members of their own communities. Considering the play deals with issues of loneliness and isolation we thought this approach would work well.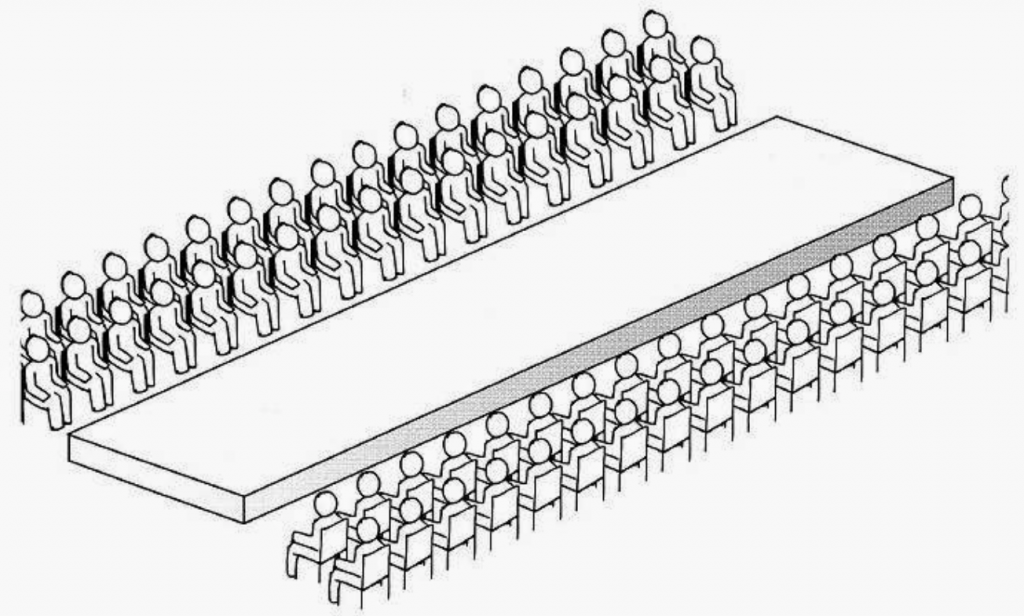 Lovely as Upstairs at the Western is, it is not a space where we can try different staging approaches, so we got on our thinking caps. Due to various factors we needed to do the performances with the new set in the Easter week. Attenborough Arts Centre were lovely & helpful as usual, offering us some space but were closing for Easter so we turned to Steamin Billy, the brewery who currently runs The Western to see if we could use their space at East Street Lanes.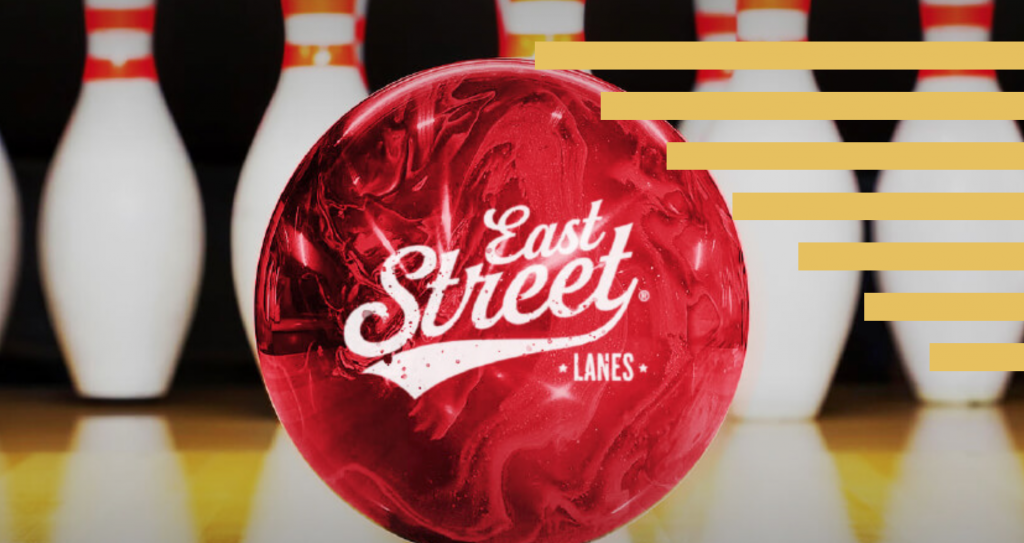 Billy said yes! So now we are in the exciting position of making a pop up theatre in the function room at the bowling alley. What a challenge and how interesting to put our play into this very definitely non traditional theatre space as a trial for taking it on rural tour after this Summer.
So all our creatives will gather in the bowling alley to rehearse our new set up. We will bring in our freshly designed set, our technician, our lights and PA and we will make theatre where there wasn't any before. (In fact the building used to be Dunelm Mill so the ghosts of duvets and shag pile rugs will surround us …)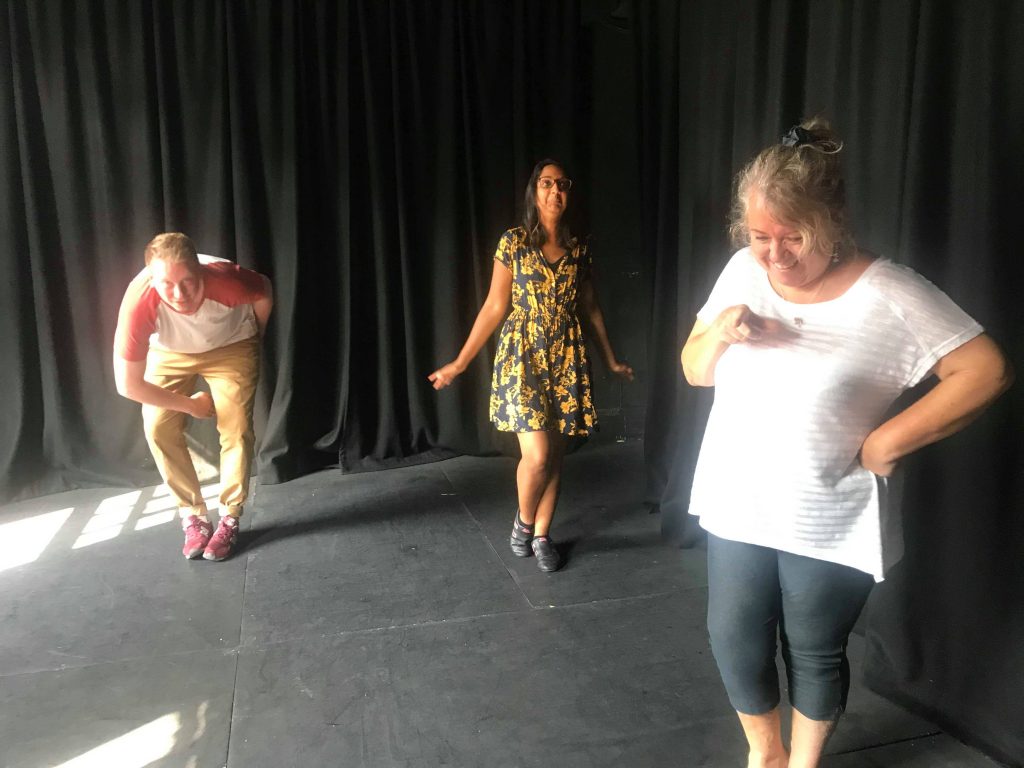 We're really looking forward to it. If you'd like to come along we are doing two performances in our pop up theatre. At 2pm and 7.30 pm on April 9th. Tickets are £5 and can be reserved via our email address or via ticketsource or on the door.
We can't wait to welcome you into our experimental space!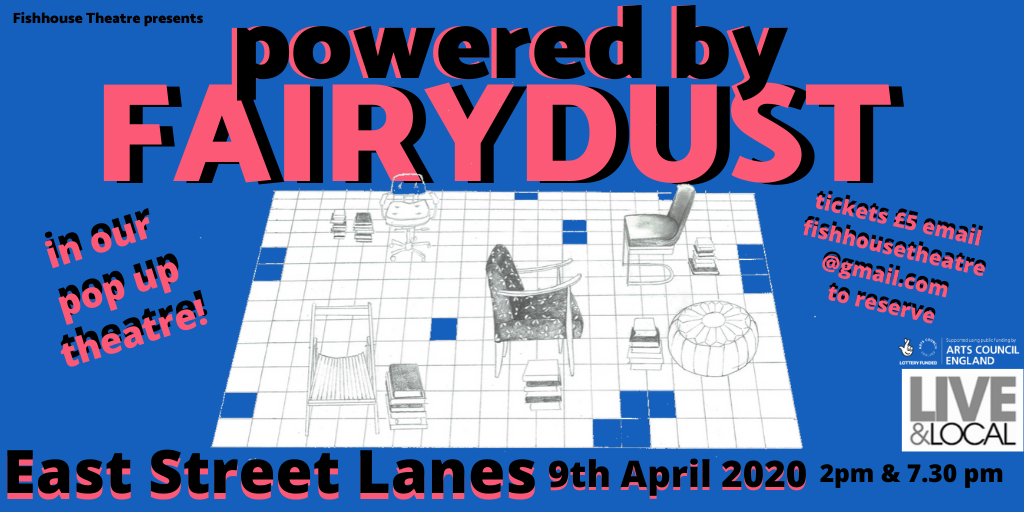 Insights on the Making Process from Actor/Writer Lesley Emery
As an actor who also writes plays, it's difficult to balance working on ideas and earning a living. My first one woman show 'What would Sharron Davies Do?' was made and performed on a shoestring. Little did I know at the time that its heroine, Janis Barlow, a hairdresser in a difficult marriage, would embark on a journey of her own.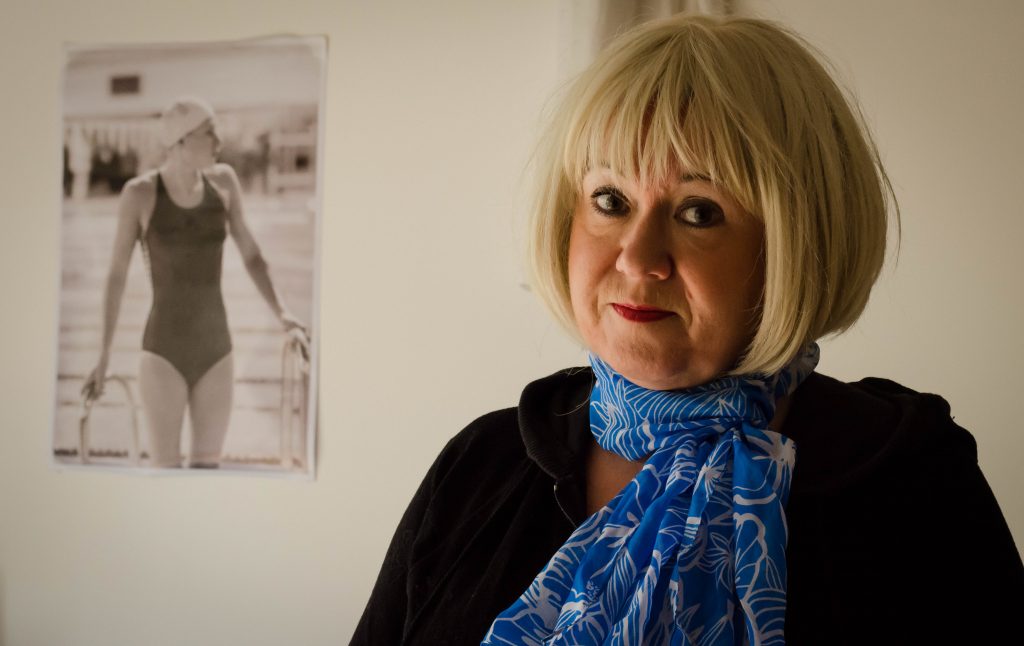 When Fishhouse was chosen as a company in development with Live & Local we had to pitch an idea for a show that would appeal to rural audiences and could be performed in non traditional venues.
I had witnessed the problem of loneliness in my village. Alison suggested that we could explore this theme with the recently divorced Janis being the catalyst for change in the lives of others. Alison had a Smart car with a sticker on the back 'Powered by Fairydust' so Janis was reinvented as a library volunteer who's recently moved to a small village in the West Midlands and who drives around the county in her Smart car delivering books to people who can't get out to the library.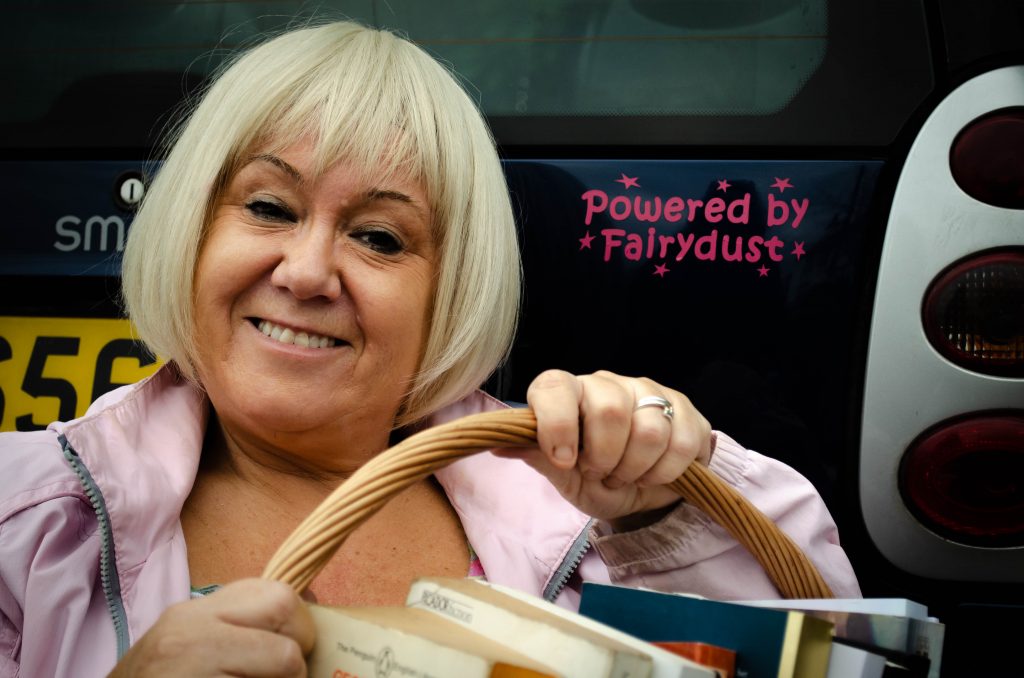 Having funding made a huge difference to how the show evolved. We had some rehearsal days before we even started writing the show. Situations, and characters with back stories emerged as Janis (me!) improvised interactions with characters created by Stuart and Chandni based on research into those affected by loneliness. And we had a professional director, Jake Leonard, leading the process.
Alison and i then went away to co-write the show. We identified key scenes and key parts of Janis' story, and chose the characters best suited to telling the story. Alison wrote the character dialogue and I answered as Janis.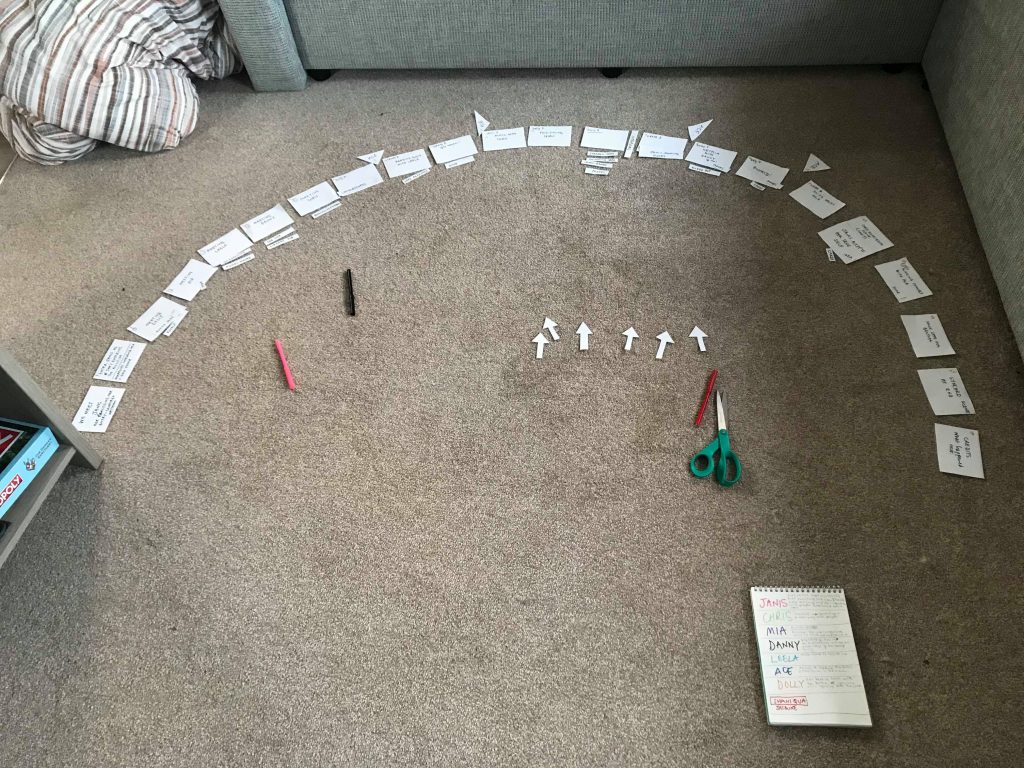 By the time we got to rehearsals we were all very familiar with the characters and many of the scenes contained dialogue from the improvisations. As an actor this meant I could explore my character and her actions in more depth and helped with line learning. Believe me that was great as Janis does not use one word when she can use seven, so there were a lot of words to be learnt. It also helped in developing the relationships between the characters. Good acting is all about reacting and knowing the characters and their history helped me to focus on the emotional connections rather than just the words, from the beginning.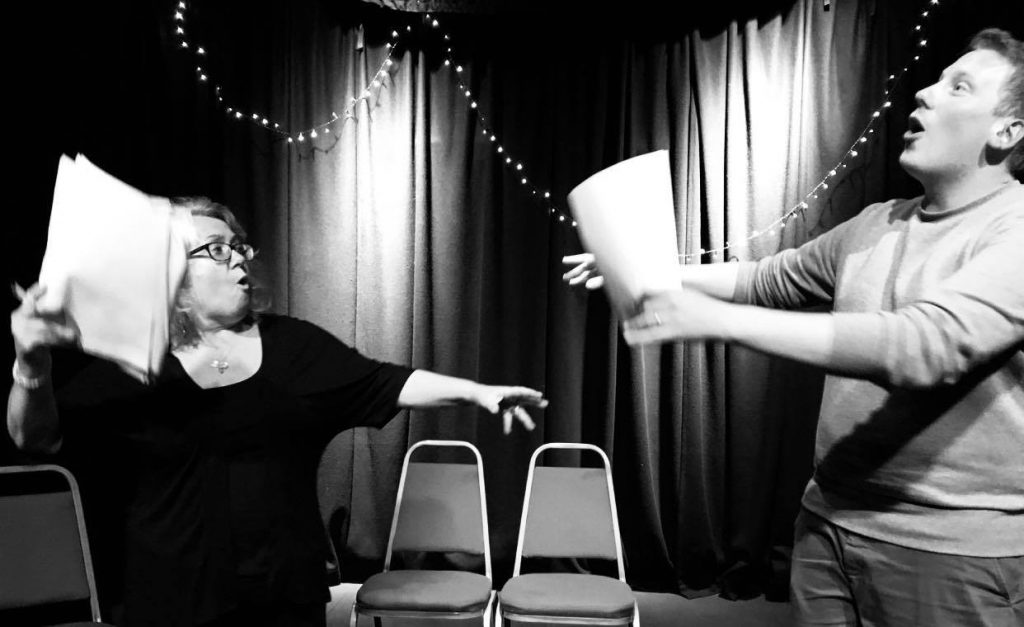 We also now have the luxury of Fern Reid, a dancer and choreographer, coming in to work as movement director. I'm an actor in my 60s, Janis is not the fittest of people so that is a real plus. The process of creating the show has given Alison and me ideas for two new shows, so new funding applications will be going in soon. Exciting times ahead for Fishhouse!
Meeting with Designer Lydia Denno – by Alison Dunne wearing a Producer's Hat
There are the unknown unknowns. Everyone knows that. Apart from those who don't know they don't know … but anyway I've rapidly realised the design process is one of these for me. So maybe it's now a known unknown … well, who knows.
Our designer has a way of thinking that is extraordinary to me. I have no idea what a thing should look like. Powered by Fairydust (PBF) is an example of this. We had to make PBF on a shoestring because our funding didn't come through in time for our first 3 shows.
That sucked and we were disappointed but we were committed to 3 performances and so we had to make the show. So we made the show and that meant calling in favours from people who can draw (thanks Daisy!) and making stuff out of cardboard. A local bike shop donated a bike box (and even delivered it) that became our door. Aldi let us have a giant box that became our narrowboat.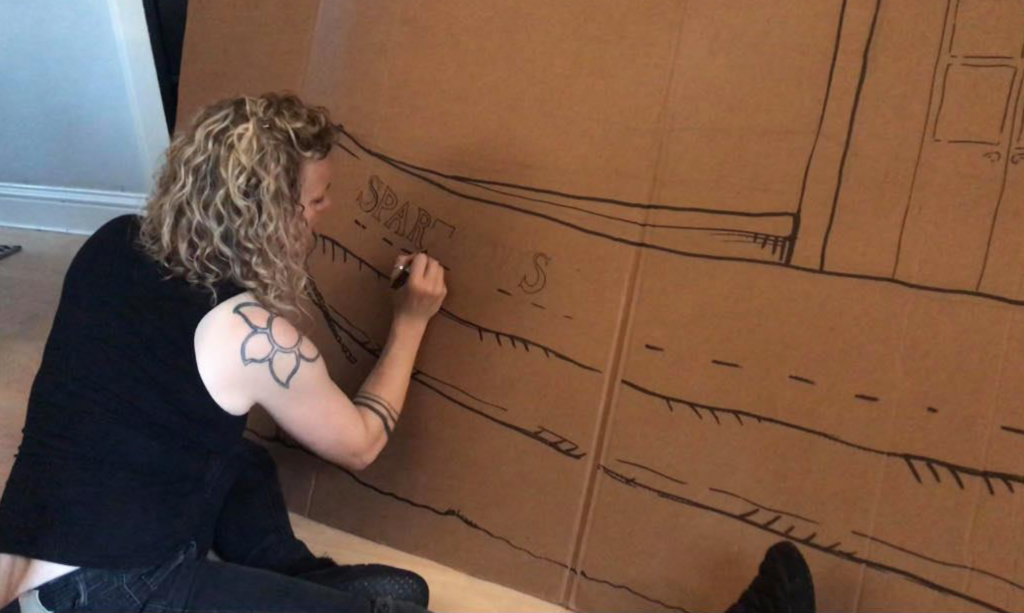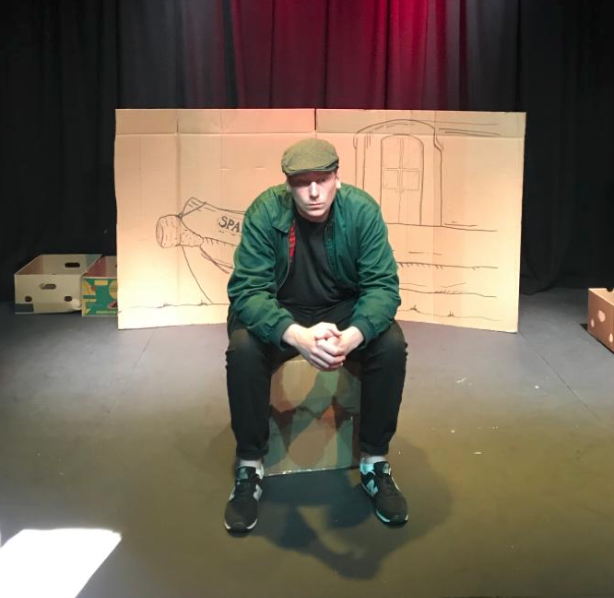 We begged, stole, borrowed. (We didn't actually steal… I don't think …) Our local library (Westcotes Library on Narborough Road in Leicester) let us have some books they couldn't sell, for props. I covered them in brown paper.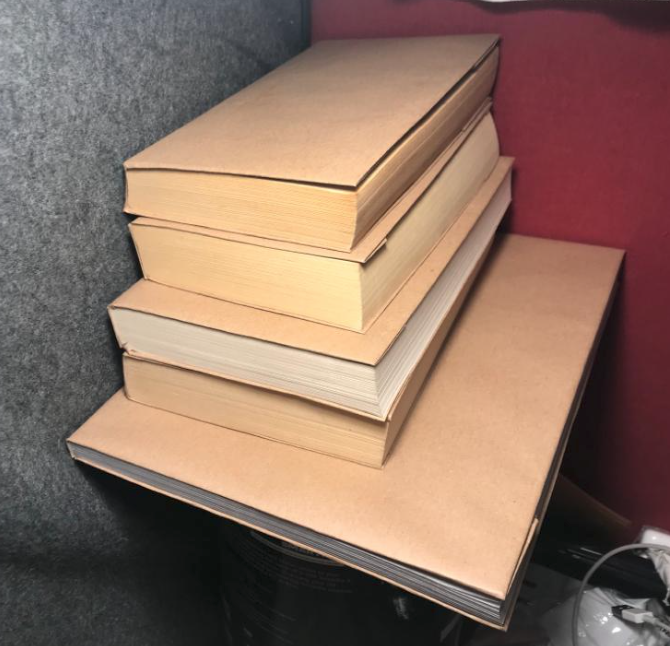 Someone on Freecycle gave us 15 banana boxes from their house move and they still had stickers on that said 'Kitchen' and so on. I made things out of them including a window …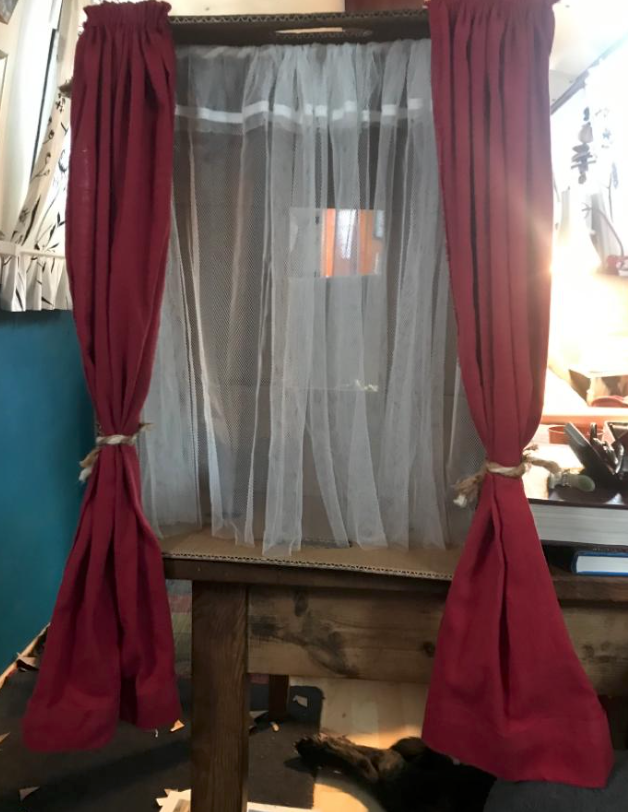 Costume was bought on an absolute budget.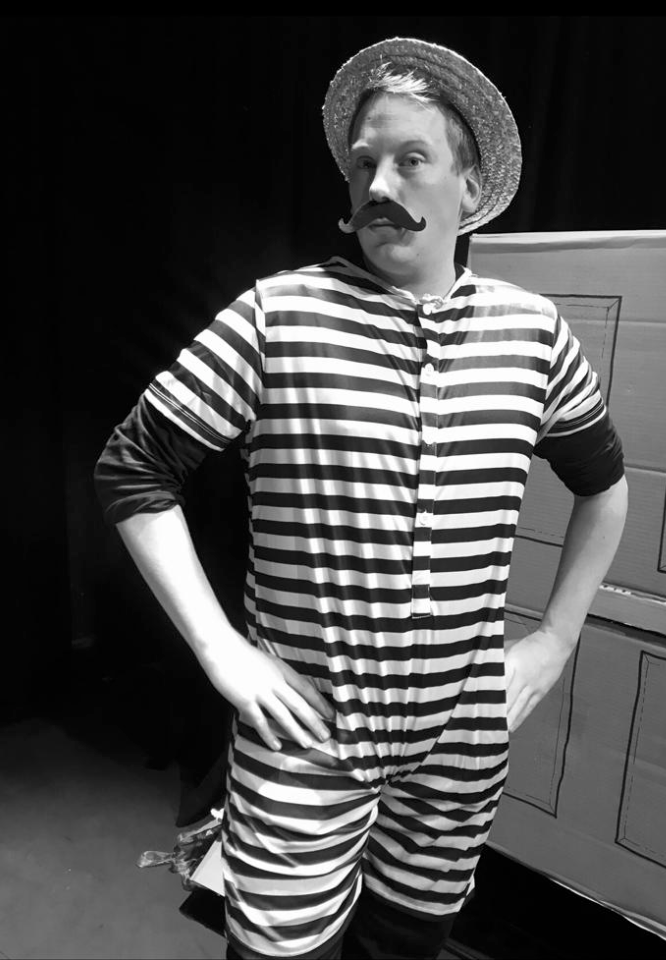 Things were made by me. Including this popcorn box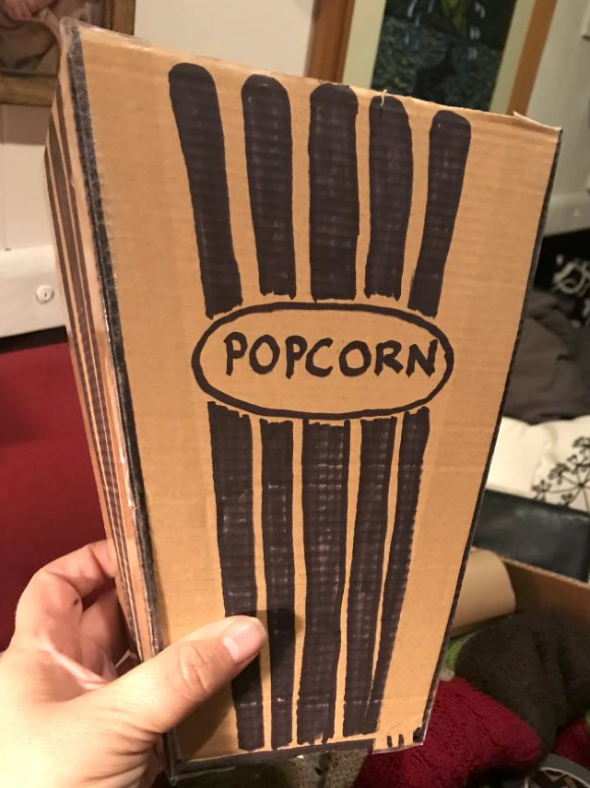 And this fancy butterfly head dress …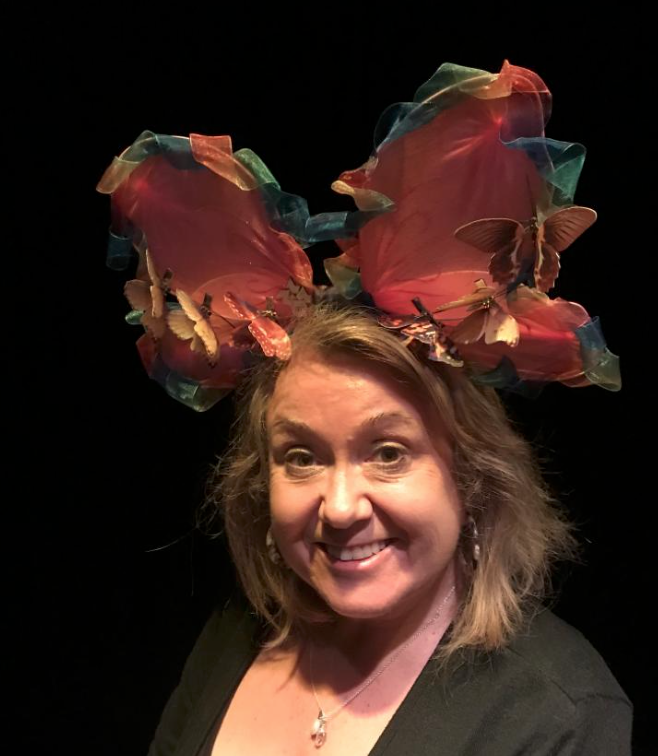 And our audiences played along. They loved the play. They commented fondly on the cardboard door with the brown paper doorknob held on by obvious sellotape.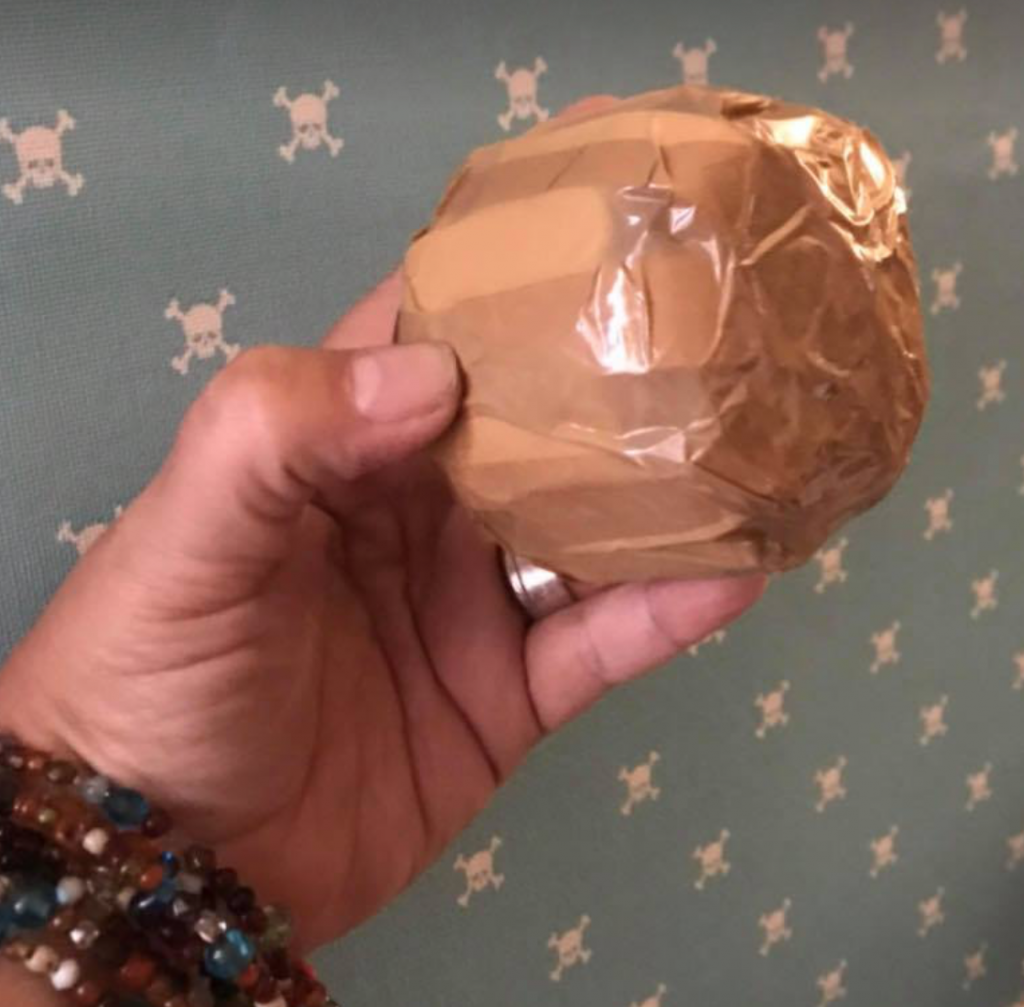 But there I was talking to our designer, the wonderful Lydia Denno who had done our design for Ruby & Cedar and miraculously had time when the funding came through on the second go for PBF.
Suddenly, talking to Lydia, I could see the unifying themes. The metaphor. The chairs. We sat drinking tea and discussing the possibilities and she showed me idea after idea and got out her tiny model box.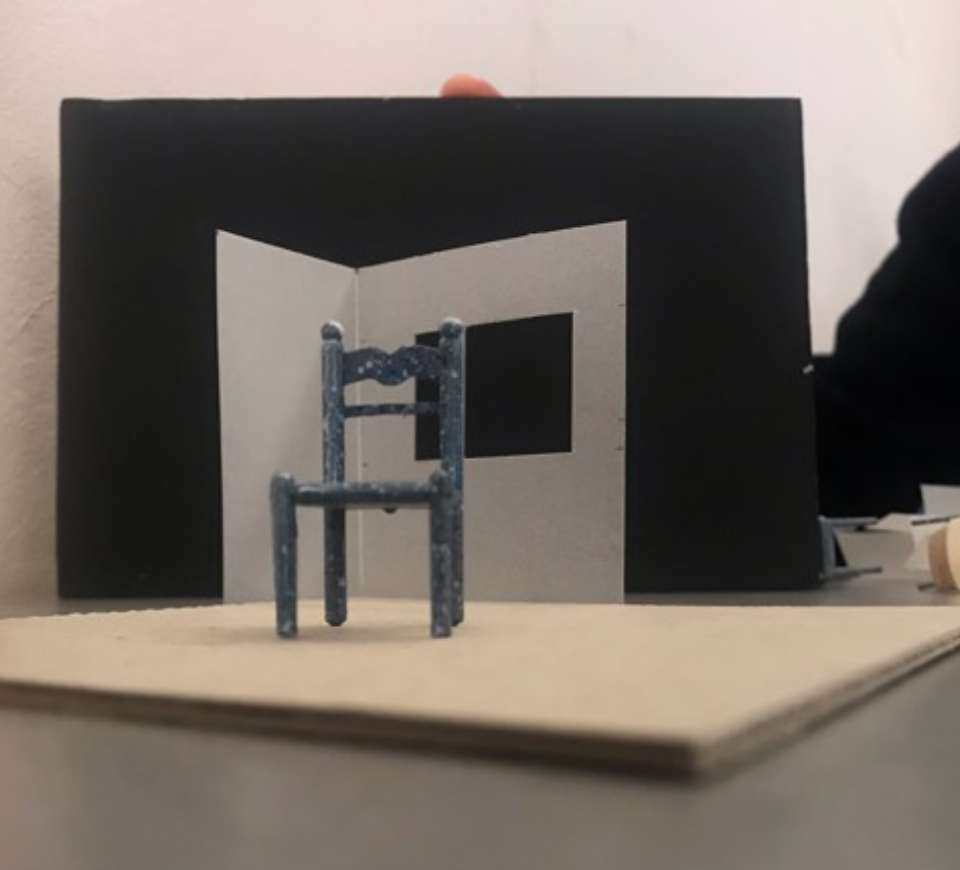 As we moved the little bits of architecture around and talked, the idea coalesced, simplified. The play is about loneliness. The chairs represent that. There'll be no extraneous business. It will all pack into the car. There'll be no boat, no door, no doorknob.
And the audience will sit both sides of the set. For a play that wants to set itself down in the heart of communities and address loneliness, the audience will be looking across at members of their own community, looking them right in the eye.
And this is the joy of making work. Of having a professional doing their job. Not me begging bike boxes and tattered books. You may not think you know what it is and how it should look but when you see it, you know.